KNEBWORTH FESTIVALS - THERE MUST BE A BETTER WAY
Apr 18,2006 - Good news. We've just contacted Henrietta Bannister, daughter of the promoter Freddy Bannister, who was responsible for the legendary Knebworth festival concerts in the seventies: she said that there're still available copies of the limited edition Knebworth commemorative set, described below.
The 1975 Knebworth Pink Floyd Festival Commemorative Set proced at 49.99 GBP has been produced in a Limited edition of 200 (of which there are approx 30) left and includes the following:
Programmes, flyers and the ticket from 1975 Knebworth Pink Floyd festival

12 photos of the 1975 Knebworth festival, including 4 new photos just discovered.
330 page book on the behind the scenes hassles of promoting the Knebworth festivals.
A black and white poster which is a 2nd printing of the poster, in a limited numbered edition of 750, used to advertise the festival in universities, record shops etc.
A 50 mins DVD of various Knebworth festivals between 1974 . 1979, including Genesis with interviews and the sound check, The Rolling Stones, Lynyrd Skynyrd and Led Zeppelin.
A gift of 6 CDs from the 1975 Knebworth festival including

An improved Pink Floyd 3 CD set
Steve Miller 1CD
Captain Beefheart. 1CD
Roy Harper 1 CD
All enclosed in the same very attractive turquoise and silver presentation box.

For further information please email info@rockmusicmemorabilia.com

Below is a photo of the full set with Led Zeppelin items. The 1975 looks the same but with the PInk Floyd items.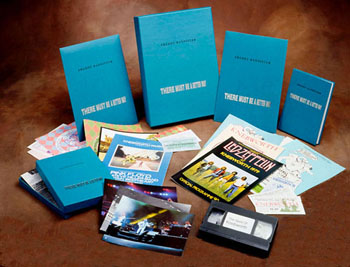 WHAT THE OTHER REVIEWERS SAID
A first impartial review can be found on www.brain-damage.co.uk page news section.
Another review is on www.pinkfloydz.com.
The whole package will appeal to fans and collectors alike, awakening their remembrance of past times, the photographs and memorabilia particularly gratifying.
The faithfully reproduced programmes act as an aide-memoir to the famous bands that played each year- Rolling Stones, Pink Floyd and Led Zeppelin. Beautifully presented, desirable and highly recommended.
Linda Raeburn for Stones fanzine It's Only Rock 'n'Roll.
"There Must Be a Better Way" Knebworth commemorative set is extremely well done that is a must for all music collectors. House in a fine quality cloth-cover box with matching hard bound book, excellent tour programs, assorted memorabilia with large color photos that tell an amazing story."
Skippy at Sticky Fingers Journal
A limited edition that should grow in value with the years, it demands your urgent attention.
Mick Wall Editor - Classic Rock.
A spectacular new ltd' edition signed and numbered box set contains a great collection of mint quality reproductions. The books behind-the-scenes' story of Zeppelin's 1979 headlined concerts betrays a darker side of Peter Grant. "Fear" as well as growing disillusionment with the business, which led to Bannister's decision to retire soon after.
Sam Rappallo www.led-zeppelin.com
I got this last week and it is incredible--a must collector's item for anyone who is interested in the Knebworth festival--more info and to order
Doug at Shidoobee