The book author, Tim Willis, is a journalist who writes for several magazines, like the
Saturday
and
Sunday Telegraph
magazines,
Esquire
and
Tatler
.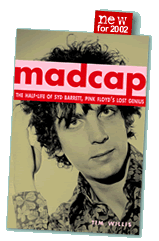 His "Madcap" goes back over the chronology of Syd's private life, with right order and precision: the book actually includes interviews with Waters and Gilmour, a new exclusive conversation with Syd, unseen letters from Pink Floyd's early years, new stories, previously unpublished pictures and much more.
We think that the book could be one of the closest to Syd's musical and human story, certainly a must for every Syd fan.
Tim Willis' "Madcap" will be published this October: anyone will be able to order it from Macmillans distributor (Tel. +44 1256 302699 - book ISBN: 1-904095-24-0). or from the usual internet book stores.

A few days ago we asked Tim some questions about his interesting book and Syd rumours.
Tim speaks his mind, a good base for his profession. Read this interview with care...
A new publication on Syd Barrett: to what extent your work can add something new to previous efforts?
I'm thinking to "Crazy Diamond" by Watkinson and Anderson, which aimed to tell a few final words on Syd's life experience, both as an artist and as a man.
Well, Crazy Diamond was wildly inaccurate, regarding...just about everything: dates, places, names, people, chronology (tho' I admit it had a good atmosphere). The only other recent work, Lost In the Woods is a better book, but it repeats some of those mistakes and - daunted by the chronology - tries to hide his ignorance, which makes the book more confusing. Nick Kent's essay, of course, is great - but it was dealing with the myth more than the man - and it's about 30 years out of date! This is the story told straight, correctly, from impeccable sources, with some added reflections from me.
Could you summarize the main topics of your work? A collection of interviews, a human story, a scoop collection or what else?
All of the above. I admit there are gaps in my story - and I could have written a longer book, too - but as Nick Kent says on the jacket: it's "the most revealing account yet".
Ever read the books on Syd Barrett by Luca Ferrari of Italy? Your opinion?
Sorry, no, so I can't comment.
While researching your book, did you come across something unpublished, as far as Syd's artistic production is concerned?
Stuff owned by the Barrett family or discarded by EMI (which keep swearing they emptied their archives each and every time a new publication is issued!). Or the famed tapes stolen to Ronnie Salmon, the Chelsea goalkeeper
Unpublished stuff includes letters, drawings, photos. There are no new Syd songs - but a couple of names of songs from his teenage years, previously unreported. And - a big scoop, this - contrary to any previous reports, Roger Waters' first song (which is called 'Walk With Me Sydney').
To stay on the topic of unreleased takes, many claims the discarded recordings were less than decent in quality. As a personal comment, I noticed in many cases they were even better than the "official" releases. Did you get the same feeling? Are you dealing with such questions in your book?
Yeah, I do deal with those kind of issues - but I must differ from you. I wouldn't go as far as David Gilmour, who has said that he would "love to have another go at mixing" Syd's two solo albums, but I think Opel etc should have remained buried.
I read that you received help from any of the Floyds in preparing your publication. If so, what about the spirit of the collaboration?
Well, the two who matter - Gilmour and Waters - were very generous with their time. Particularly the former (although he is a friend).
Recently Gilmour seems to pay much attention to everything incorrect is written about the Floyd...
Yes, he's a musician - and hence, in his case, a natural mathematician. So he's a stickler for accuracy. He really likes facts and information (which was particularly lucky for me!). Regarding accounts of the Floyd, I think, as the years have gone on, he's eventually got sick of inaccuracies in the press - particularly now that the story of the band can (probably) be written. I mean, they (probably) won't record an album together again.
I suspect that Waters and Gilmour, even if for different reasons, have been feeling guilty for Syd leaving the band. What do you think?
I doubt if Waters does - and I don't think he should. I guess Gilmour can't help it, tho' he has no need to. In a way, I suppose, Syd's career was as it was meant to be.
I heard you were able to interview some of Syd's former girlfriends. What they are left: the memory of his violent bursts or the memory of his human and tender side?
The two who experienced his aggression when he was mentally ill are very different about it. Gala Pinion can laugh about it. Lindsay Corner is in denial.
More, I heard you were able to talk with Syd himself: which was your strategy?
Did his relatives help you?
Yes, I did. I walked up to his door and knocked on it, without introduction. Some of his family helped me in various ways, but - for reasons of confidentiality - I can't really go into that.
Which was the "added value" that meeting Syd gave to your work?
Don't you think this may have perturbed the peace he seems to look for?
Well, I guess I couldn't write a book about someone living without trying to encounter them - so that I could at least have some kind of impression. I worried a lot about disturbing his peace, and I'd never do it again. But because I knew how good I could make this book, I decided (maybe wrongly) to do it. In the end, perhaps it will lead to less hassle for him, if people understand from it that he can't give them any answers; even if he has found them for himself.
In a small note on the "Dolly Rocker" website, I raised a few questions.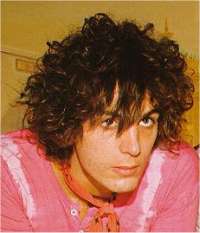 It's true Syd doesn't like to be continuously bothered by strangers, yet the rumours seem overemphasized about his firm will to forget the past and everything could remind him. In other words, he signs 320 copies of Mick Rock photo book, then he watch the Omnibus documentary on tv and express his appreciation.
I'd like to know your opinion, mostly after meeting him.
I think Syd lives in the here and now (and that's what he was always trying to do before). I think he finds it easier to do it as Roger - and that he can achieve it by a mental trick. However, I think if he's forced by fans to think about his Syd-period, it can annoy him (or even upset him, when he remembers being dumped from the band).
I'm sure he finds the Syd-cult a drag - but everyone has their price. In return for quite a lot of money, all he had to do for Rock was sign his SURNAME - so he didn't need to think of the Syd business. (Also, he's nver seen the book; he only signed the fly-leaves, which were later inserted.) I don't know if he exactly "appreciated" the documentary. Read in my book what he said about it!

How do you explain the renewed attention towards Syd? The BBC "Omnibus" documentary, an anthology including the wonderful, never released before, "Bob Dylan Blues", the lavish book by Mick Rock and now your work, which promises to be really interesting.
I think he's here to stay. The Sixties are history now. Some bands' and signers' work clearly belong in a kind of "canon". Syd's, for example.

By the way, in your opinion why on the earth David Gilmour has kept "Bob Dylan Blues" secret for so many years?
As far as I remember, there was no "plot". He found it one day in the studio and gave it to EMI.

What do you think of the Internet and the websites on Barrett and the Floyd in general? Just a lot of trash? Did you find something useful and worth mentioning among your references?
Well, they're like everything on the web - a huge range; some very useful stuff if you have patience. I didn't recommend anyone in particular. Should I have?

Rumors on the net about Syd going to publish an art book: the usual visionary delirium of the fans or something more?
No, he's not going to publish. He did once write a history of world art - he still writes all the time - but never for publication.

Let me heartily wish you the best success for your book: thank you very much for your courtesy.
No no, thank you for the space. Let me know if you want anything else. All the best, Tim

Interview by Vittorio Moccia