1967
March 11
ARNOLD LAYNE (Barrett)/CANDY AND A CURRENT BUN (Barrett)
(UK 45 - Columbia DB 8156, mono) Other Issues:
US 45 - Tower 333
? - Columbia ESRF 1857 M9 (anybody know what this is? I
think it's a French promo or something. )




June 16
SEE EMILY PLAY (Barrett)/SCARECROW (Barrett)
(UK 45 - Columbia DB 8214, mono) Other issues:
US 45 - Tower 356
Fr 45 - Columbia CF 113 de luxe (promo)
UK 45 - Columbia SCMQ 7066 (juke-box ed.)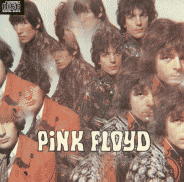 August 5
THE PIPER AT THE GATES OF DAWN
(UK LP - Columbia SCX 6157, stereo - Columbia SC 6157, mono)
Tracks:
Astronomy Domine (Barrett)
Lucifer Sam (Barrett)
Matilda Mother (Barrett)
Flaming (Barrett)
Pow R. Toc H. (Barrett/Waters/Wright/Mason)
Take Up Thy Stethescope And Walk (Waters)
Interstellar Overdrive (Barrett/Waters/Wright/Mason)
The Gnome (Barrett)
Chapter 24 (Barrett)
Scarecrow (Barrett)
Bike (Barrett)
Producer - Norman Smith
Engineer - Peter Brown
Comments: The mono release has significantly different mixes. The original
release has a black label w/ columbia logo in blue
Other issues:
67 US LP - Tower T/ST 5903 (Different Track order: See
Emily Play, Pow R. Toc H., Take up Thy Stethascope
and Walk, Lucifer Sam, Mathilda Mother, The
Scarecrow, The Gnome, Chapter 24, Interstellar
Overdrive)
71 ?LP - Harvest 3C-062- 04292 (stereo)
5/83 UK LP - Fame FA 3065
2/87 CD - Capitol CDP7 46384 2




November 18
APPLES AND ORANGES (Barrett)/ PAINT BOX (Richard Wright)
(UK 45 - Columbia DB 8310, mono)
Other Issues: Fr 45 - Columbia CF 135 (different mixes?)

?
FLAMING (Barrett)/ THE GNOME (Barrett)
(US 45 - Tower 378)
-very rare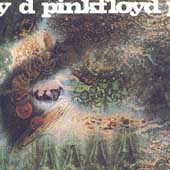 1968
June 29
A SAUCERFUL OF SECRETS
(LP - Columbia SCX 6258, stereo - Columbia SC 6258 mono)
Tracks:
Let There Be More Light (Waters)
Remember a Day (Wright)
Set the Controls For the Heart of the Sun (Waters)
Corporal Clegg (Waters)
A Saucerful Of Secrets (Mason/Gilmour/Waters/Wright)
See-saw (Wright)
Jugband Blues (Barrett)
Producer: Norman Smith
Comments: Barrett is only present on "Jugband Blues" and "Remember a Day". He is replaced on the other tracks by David Gilmour.
Other issues:
68 - US LP Tower ST-5131
71? - Fr LP Harvest 3C 062-04190 (stereo)
87 - LP Fame FA 3163
87 - US CD Capitol CDP7 46383 2
93 - included in the "Shine On" Box Set

..back..