Nick Mason Chat at the Festival Of Speed 2002
Interviewed by Matt Johns, 13 July 2002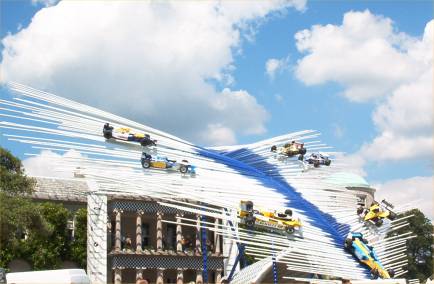 As promised, Brain Damage caught up with everyone's favourite drummer at the 2002 Festival Of Speed. This event is held annually at Goodwood House in West Sussex, England, and features cars and drivers from all eras and types of motor sport.
It is a three-day celebration of speed in all its (motorised) forms, held this year on the 12th to 14th July, and includes a relatively light-hearted speed trial element, driving up a hill past Goodwood House itself (a stately home that Lord March - who stages this and other motoring events - lives in!)
The time trial element applies to all vehicles apart from modern Formula 1 cars that are taking part. This is due to the fierce competitiveness of the Formula 1 teams so they just make this part of the event a demonstration for the crowds - hence cars performing "doughnuts", standing starts, etc.
It is perhaps a unique event - where else can you wander around the cars in the paddocks, rub shoulders with legendary drivers, and in a very traditional setting too? Where else would you see straw bales lining the track, or a collection of Formula 1 cars on a huge metal feathery/leaf thing?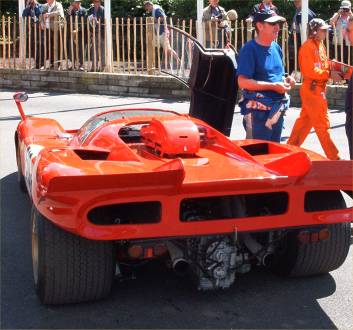 If you have any interest in cars and bikes, then it really is a recommended event. You can find out more information at the Goodwood site (www.Goodwood.co.uk).
This time around, Nick had just entered one car - a Ferrari 512S from 1969, a five-litre, four-cam V12, which has an interesting history: it was used (and burnt out!) in the Steve McQueen film "Le Mans".
By the end of Saturday, Nick had managed to set the 27th fastest time overall (at 67.39 seconds), ahead of Floyd manager Steve O'Rourke in 34th place in the amusingly titled Lister Jaguar Knobbly (69.97 seconds). In Nick's car's class, he was 10th overall.
It was a pleasure to see Nick looking so fit and well - he looked tanned, relaxed and happy. The last time I'd seen him properly (in other words, apart from at Wembley for the recent Waters shows) was at last year's Festival Of Speed, when he looked somewhat under the weather.
He seemed tired then and didn't look too well...he seemed to have little enthusiasm for what he was doing. He also sounded a little sad when we caught up with him then, when he explained why he wasn't credited for the vocal on "Scream Thy Last Scream".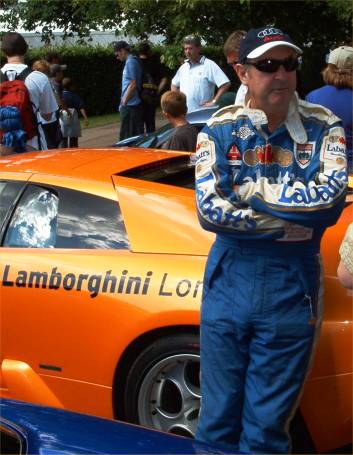 So, his appearance and general demeanour this time round was a joy to behold. The spring definately seemed to be back in his step.
His wife Annette was also in attendance, which was no huge surprise being quite an accomplished driver herself, taking the wheel of another car from the wonderful collection of Nick's. She drove a 1925 Bugatti Type 35B, in the "Lords Of The 'Ring" which celebrated 75 years of the mighty Nordschleife ("North Loop" of the original Nurburgring circuit).
I caught up with Nick after one of his timed runs. These runs go from the relevent paddock (in this case, Cathedral Paddock just south of Goodwood House), down to the bottom of the hill to the start line, then once at the top the cars turn around and return to their respective paddocks. Once in the paddocks the drivers have to make their way through the crowds - where else would you have, for example, Ralf Schumacher driving a Formula 1 car behind you, his wheels nipping at your ankles? So, if you see your favourite setting off, you know you've got a while to go before they return!
Once pleasantries had been exchanged, I kicked off by asking Nick about the progress of the official biography of the band, that he has been working on for many years now. (See my interview with him from November 1994 when the book was more-or-less ready for publication!)

Nick, how's the book going?

"It's going well actually - yes".

Is it due out soon now?

"Well, I'd say it is about a year away now - I've changed my mind about a few things that are in it at the moment".

It was great - such a pleasure - to see you at Wembley with Roger, on Set The Controls...

"Yes, that was great fun - I really enjoyed it. It was really nice..."

A sign of things to come, perhaps?

(Laughs) "Well, I'm not sure about that; it is too early to say...

It looked and sounded like you were having great fun playing Set The Controls, and like you didn't necessarily want to leave the stage!

"Yes - it WAS huge fun - I had a great time but I was only doing that song..."

It sounded to me like you played on some other songs during the soundcheck, apart from just Set The Controls?

"Yes, but I didn't want to outstay my welcome. Roger had got together a great band who had played a whole tour together, so it wouldn't have been right for me to try and stay!"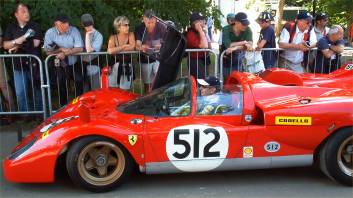 After a few minutes, the conversation then turned to the future.
Will you be taking part in the charity concert that Roger is apparently playing later this year?

(Looking confused) "When is it?"

October the sixteen...
(Now looking suspicious!) "Where?"

At the Royal Albert Hall...

"Well, I've not been asked yet. I'll wait for the call rather than try and barge my way into it! (laughs again)

Did you see that Rick played with David at his concerts in January?

"Yes I did. You know, maybe it is time that Roger and I, and Dave and Rick, form two seperate bands? You know, Roger recruits a guitarist, and Dave recruits..."(laughs yet again!)



Nick's tongue was obviously firmly in his cheek with this last comment before we closed the conversation, but from the comments I pulled out of our chat and presented above, it is obvious that things in the world of Floyd are more relaxed now. Hopefully most if not all of the ghosts of the past have been exorcised from the band members and a new maturity or spirit of co-operation exists. It is hugely encouraging that this year has seen all four members of the "classic" line up of the band performing again.

It was also nice to see Nick look so well, despite the very sad loss of his father this year, whom I had the pleasure of meeting on a few occasions.

This interview was mirrored from http://www.brain-damage.co.uk/. The mirror has the official approval of Matt Johns

All trademarks and copywrites remain the property of their owners. The contents of this entire website are presented here as a non-profit and non-subscription service intended for the non-commercial purposes of criticism, research, comment, education, and archiving use only. This is pursuant to U.S. Code Sec. 107, Fair Use provision of the Copyright Act. This site is a tribute to the band: the past and present members, and their activities, whether musical or not.